97.9 WREN is Charlottesville's non-profit 50s to early 80s Oldies community radio station. Our station broadcasts at 97.9 on the FM dial.
97.9 WREN is a member of Charlottesville's unique radio organization, the Virginia Radio Coop. We are four stations operating independently under one roof and with one primary transmitter site. Our studios are located in the Seminole Square Shopping Center at 394 Hillsdale Drive on the second level of the building which is located behind Burger King. We are located past ATA Martial Arts and next door to Full Sail Ballroom Dance Studio on the upper level.  Snap Fitness is on the floor below us.  Other Charlottesville area Radio Coop members include Rock Hits 92.3 XRK (WXRK), Progressive Talk, Spanish, Folk, and EDM 94.7 WPVC, and Classic Hip-Hip and R&B 101.3 WVAI. Radio Coop members also include 96.5 WKMZ in Ruckersville and Adult Alternative 103.3 WBDB in Richmond.
WREN is presently simulcast on 96.5 WKMZ in Ruckersville.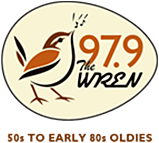 Station Website: 979WREN.org
Seminole Square Shopping Center
394 Hillsdale Dr. – Charlottesville, VA. 22901
434-817-9798 – info@923xrk.org